Every year Gardner holds an auction, which is its only major fundraiser, the proceeds of which directly support the operating budget. This year I volunteered to help on what I think is the best part of the auction–the kids' classroom art projects.  Here are some of the finished projects that I helped facilitate (and some fetched as much as $2,500!):
Tahoma (7th and 8th Graders)
Tahomans' Brilliant Reflection
This mirror of beautiful patina copper tiles will surely gleam above your mantel, in your entryway or on any wall that needs a classy touch.  Drawing on the rich variety of Northwest flora, the Tahomans used copper repoussé to create tiles to frame a shimmery beveled mirror.  With this on your wall you will never tire of taking a closer look!
Mirror 16" x 20"; with frame 24" x 28"
Klickitat (5th and 6th graders)
Marvelous Malachite
This gorgeous painting will rock your world!!!  It was inspired by a stunning slice of malachite, one of nature's most beautiful stones. The Klickitat students studied geology in the fall, so they know something about rocks! The students spent many hours painting the unique colors and curves of the magical malachite. Enhance the beauty of your home with this remarkable art work!
20" x 24" acrylic painting framed in black 4″ wide frame (24″ x 28″)


Wy'East (3rd and 4th graders)
Radiance of the Night Sky
This is truly an "out of this world" piece by the Wy'East class!  The students studied outer space last term, but for this piece they didn't have to look further than the night sky. The art work may look like oil paint but it is really creamy modelling clay. The students carefully blended the clay to create various shades of cool evening blues. The gorgeous texture was created by many busy fingers pressing coils and dabs of clay to the base board. All their efforts resulted in this stunning piece. Any room of the house would be enhanced with the striking design!
18" x 24″ framed in black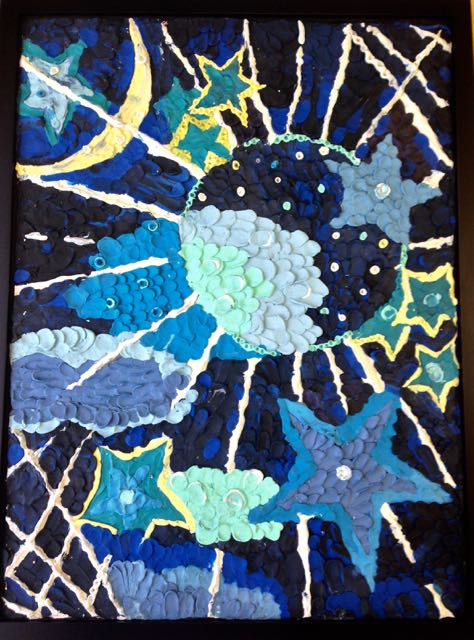 Kalama (Kindergarten)
Kindergarten Kandinsky!
This kindergarten masterpiece will brighten your lives every day of the year! The Kalama students were inspired to create this colorful piece after being introduced to the beautiful paintings of Wassily Kandinsky. When you look at this collection of vibrant watercolor squares you will be reminded of the darling smiling faces of the Kalama kids.
30" by 20″ watercolor and oil pastel, black frame