Dear Dashiell,
Let me tell you about my day. After I woke up and took a shower, I went to breakfast downstairs. I had a buttery croissant with local blueberry jam and a yogurty muesli, along with two strong cups of coffee. I need the coffee to help me wake up because my morning over here is the middle of the night for you!
After my breakfast, I came back to my room to get my computer and then took it downstairs to the lobby to work on the lesson I'm going to teach. I watched lots of interesting people go by speaking many different languages: Polish, German, English, Russian. I walked into the town square for lunch.
After lunch, I rushed back so that I could take the train to the salt mine. The salt mine is huge! We walked for 2.5 hours and we only covered 1%.  The mine had some rooms that were big enough to fit about 6 of our houses right next to each other. There used to be a giant forest on the ground above the salt mine, but they cut it all down to help make tunnels in the salt mine. Here are a couple pictures of the salt mine.One is a of a gnome with a soccer ball!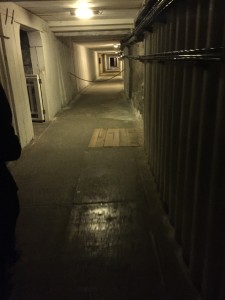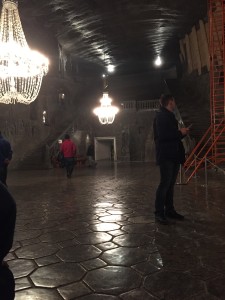 I then took the train back to the hotel and talked to you and Mommy while you were in the car.
          After that, I went on a quest to try to find your Poland kit. I tried 7 different stores and none of them had it! I did find out where the store is for the local team, Wisla Kraków, and when their hours are.
          I went to dinner with some new friends tonight. One of them said his friend said we should go to this restaurant run by an old Polish grandma, and so we did. The food was really good, and I tried lots of new things.
          Tomorrow is going to be a big day because it is the first day of the conference.
I love you and will send you another report tomorrow. Do good listening for Mommy!
Love, Dad xxooxxoo