From one Grandma adventure to the next…spring break in Phoenix with Grandma Sherry!
We headed to the desert to warm up and get some sun (little did we know Grandma Sherry would fall in love with the area and have bought a condo there 2 weeks later!). All in all, a pretty productive (yet relaxing) trip.
Here's a chronicle of the fun we had.
First, Mom let me pick from 3 professional portraits Amada had taken of her for her 70th. I managed to get mine home in perfect shape, and it's now sitting prominently on the mantle.
Dashiell worked his charm with the pilots and managed to sit up front in the cockpit–both coming and going! I was surprised they let me take pictures up there; maybe things have changed. I'm so glad they have, because we're going to be talking about it for months:
The vacation had begun with a bang! D was so excited. You can't tell from this photo, but he got to push several buttons, move levers, and pull on the stick (complete with a loud "warning" noise to remind one that it wasn't possible to "nose up" when parked).
There were other shots but they got lost when my iPhone got a tad wet (story to follow)…
Anyway it was quite exciting for us all. D managed to snooze on the flight there but only because he was overwhelmed. I was so relieved, because I knew there was going to be a lot more newness still to come before bedtime…
At the condo, we set his pack-and-play porta crib up in a walk-in closet. which made for a nice cozy den. He is way too long for it tho and could not fully stretch out his legs. I wish I had taken a picture of this, because the days of tucking him into that thing are gone. It's been to so many cities with us–so many memories. He'll never be this small again!–oh wait, he's already not.
One morning, we headed over to The Farm At South Mountain for a delicious locally-sourced breakfast and time spent rambling around the gorgeous grounds(we're going back there!! Amanda, good place for a wedding celebration??). These snaps don't do it justice:
Everywhere we go, we have to take a "train" of some kind. So we hopped on the light rail line one day and headed over to Tempe, home of ASU, and stumbled upon an awesome "splash playground". They happened to be just getting it ready for the season, so we cooled D off and explored the "lake" area.
Continuing with the train theme, we spent a couple hours at Scottsdale's Railway Park. We arrived too late to tour the steamer Pullman train (next time, when we go to visit Grandma!) but we did get to ride the little train that goes all around the park, and the merry-go-round too.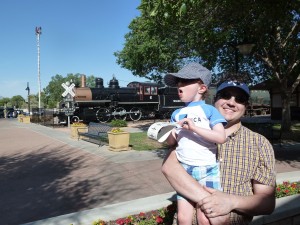 And last but not least, this blog post would be incomplete without a least a reference to this:
Yes, it was my fault. No, alcohol was not involved. Was I a tad too close to the lake and pointed downhill? Perhaps. Now I know that when golf carts go downhill, they go…fast, and the brakes don't always have time to engage. Thankfully all that was damaged was my pride, as Jeff likes to say. I bailed out just in time…looking forward to the bill for the most expensive round of non-golf we've ever played.
Beep! Beep!
Sheep in a jeep on a hill that's steep.
Uh-oh! The jeep won't go.
Sheep leap to push the jeep.
Sheep shove. Sheep grunt.
Sheep don't think to look up front.
Jeep goes splash!
Jeep goes thud!
Jeep goes deep in gooey mud.