When we were planning our big trip with Grandma Beverly and cousin Eva and Murphy to Walt Disney World (and Universal Studios, Orlando), I wasn't sure how "magical" the Magic Kingdom would be for D. He'd never been a big Disney kid, and wasn't even familiar with many of the classic characters. He'd seen Mickey Mouse Clubhouse a few times, but it'd been awhile. Donald Duck? Who was he, again?
And how would it be for me, and Jeff? Would we relive the experience of our childhood visits, or would it all just seem gimmicky and expensive? For Jeff the WDW memories are directly tied to his traumatic experience with the neighbor's dog at age 5 (he was wearing his WDW shirt, its bloodied image forever linked to the dog attack).
But still, we had Peter Pan to look forward to–and D knew the story of the boy from Neverland well, having been a cloud in last year's school production of the play Peter and Wendy.
Well it turns out I had it all wrong, and I learned this one Day 1, at Universal, when, after a tough morning of Harry Potter lines (and somewhat too scary attractions for D), we sought refuge in the "kiddie" area of Islands of Adventure, where D road the merry-go-round (twice!) with glee. Life slowed down and I remembered that although he is 7, he's…well, 7. He doesn't need a lot of sophisticated entertainment. We rode the gentle Dr. Seuess train/kiddie coaster, with its pastel colors and soothing voice-over, marveling at how we rode the tracks through a building. And after that, D exclaimed, "Look! It's Thing 1 and Thing 2" and was immediately star-struck.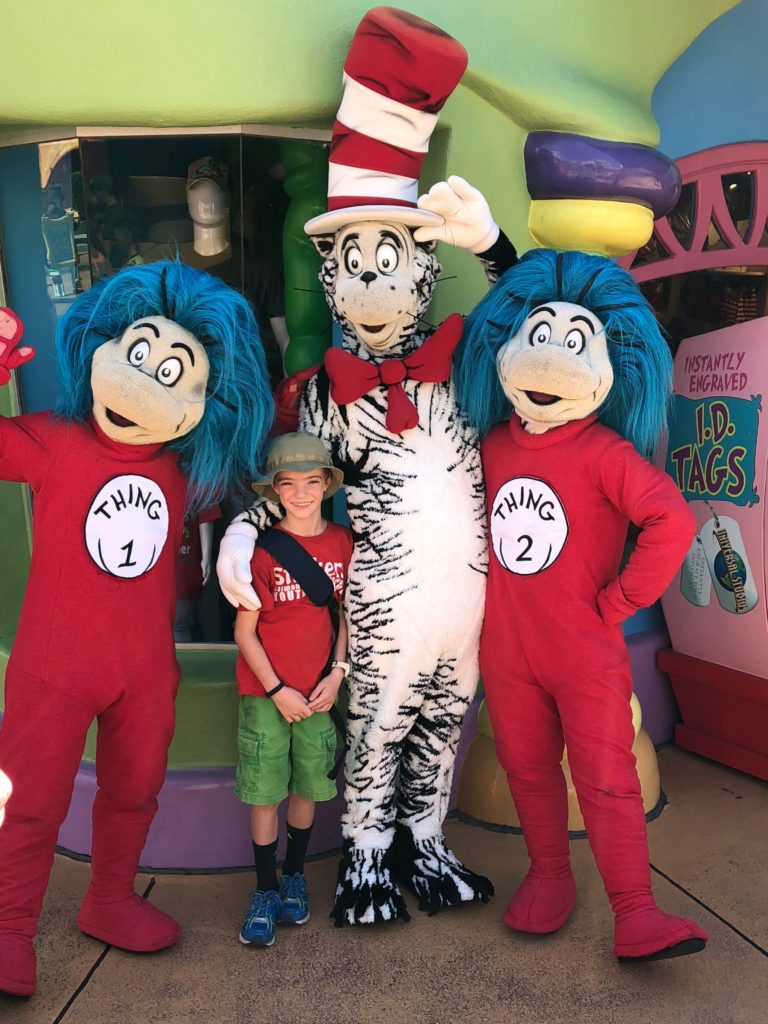 Look at that smile! What a thrill to meet *the real* Cat in the Hat and his sidekicks. Now, we were in the swing of things, and I was very relieved that I'd booked a character lunch later in the trip. Although I knew D knew there were humans under those costumes, somehow, in the heat of the day and after all that effort, it's a relief to simply believe.
On our first day at the Magic Kingdom, we had a FastPass for an attraction that had to close during our reserved time. In return, we were granted 3 wishes. No, scratch that, that's incorrect. See there I go slipping into life in FantasyLand. We were instead actually granted a visit with Mickey!
Now as you know dear readers I did copious research for this trip, thanks to the colossally sized book Grandma Beverly sent. This book saved our bacon in several respects, but it also impressed upon me how utterly late in the game we were undertaking this epic journey. As it turns out those in the know book at least 6 months in advance, so that they may book the hotel and dining venues of their choice. This includes visits with characters, which are among the first things to be snatched up at exactly 12:00:01 am on the 180th day before you set your slippered foot in the Kingdom.
So it was indeed a great honor and a nice bit of luck that landed us in Mickey's magic dressing room, for a 10-minute audience with the Mouse himself.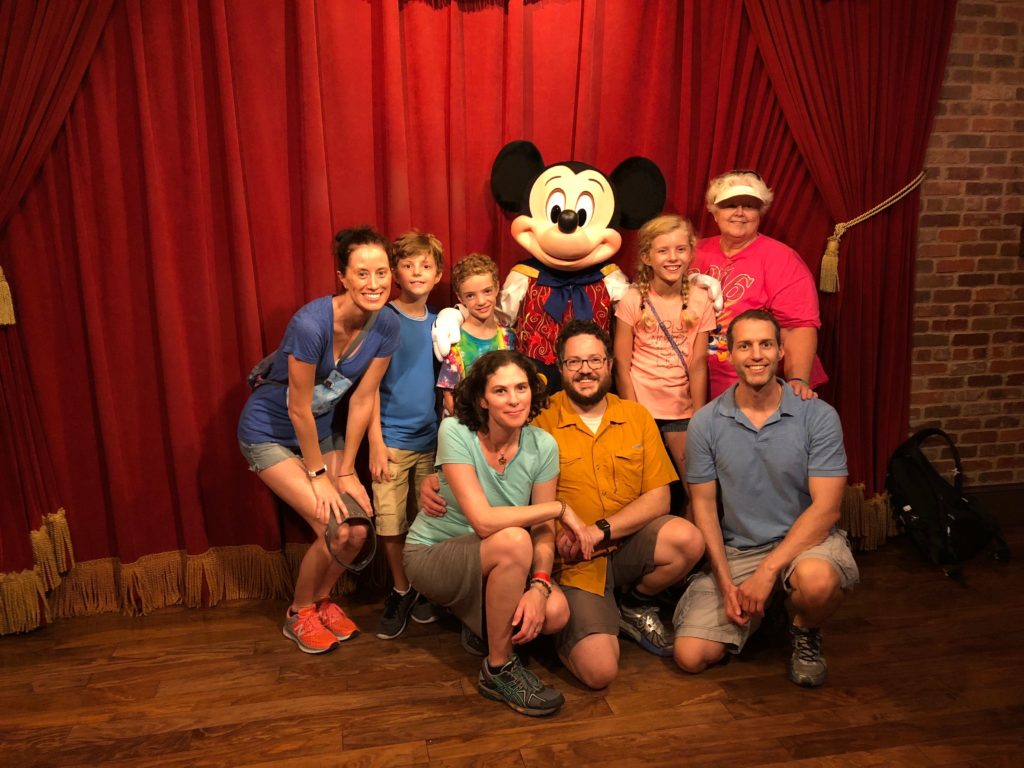 The next day, thanks to a helpful cast member (as all WDW employees are called), we secured a primo spot for the Magic Kindom parade (surprisingly good!). More luck led me to be rolling at just the right time to capture what I think was me for a major highlight of the trip.