For our first real bike outing, we headed out to the path by the airport. It was a hazy, warm day, destined to be in the 90s, so we got out there early to beat the heat and the crowds. Since our bike rack only holds 2 bikes, Jeff rode all the way to the path and back–a 30 mile day for him! We did a nice flat 7 mile ride that was a tad too long for Dashiell, but we broke it up by taking a wade in the water.
I was so happy to see Dash's face light up at the sight of the planes taking off and landing, so close to us. I only realized later that we were under the flight path at pdx on September 11, 2011.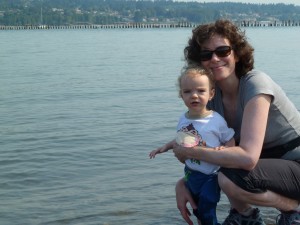 D says: Mom, I'm not too into sitting for very long, that's why I am looking peeved in this video. But I did really like watching the jumbo jets come and go, and seeing the sailboats on the Columbia River. Next time, let's take a shorter ride! And please bring more things to chew on.
Click here to view the video if you cannot see it below.