We showed Lisa Portland this weekend, in both of its forms: urban and wild. We had picture postcard weather to accompany us, and Dashiell came along for all the fun with a smile on his face.
The weekend kicked off with the season opening Camas High School football game. It was quite a spectacle; they take their ball seriously here. Last year the opening game was played against their rivals in Seattle in the Seahawks (NFL) stadium, if you can imagine. The senior class last year had the best season on record, so the then-juniors now have their work cut out for them (or so I'm told. For those of you who know me well, you know I don't know the difference between a down and a…whatever).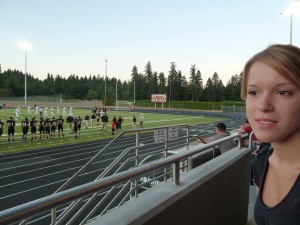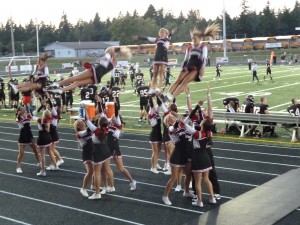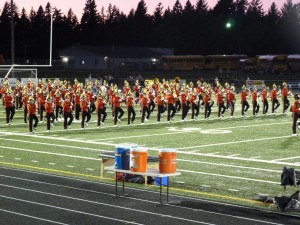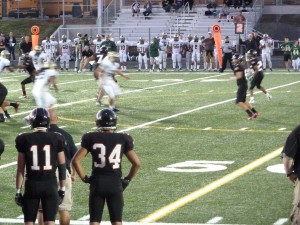 Lisa didn't seem too into American football, so they next day we trekked into town where she and I could speak the universal language of shopping.
We checked out Nordstrom's, where we also had an excellent lunch (I love their desserts and they make a great iced tea). We also hit up the new Portland H & M store, which Lisa confirmed carried the same merchandise as the store back home.
The next day we hit the road and headed east for a day in the Columbia Gorge. First stop was Vista House, where surprisingly we'd never been. It's a reception house, kind of like a beacon or lighthouse even, situated on 1 gorgeous lookout with sweeping views into the gorge.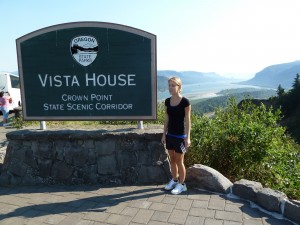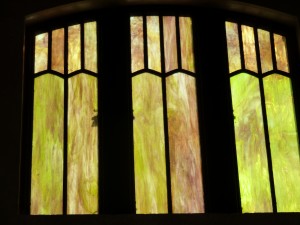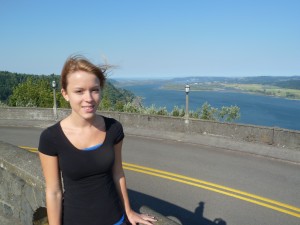 It is obligatory for every tourist to visit the stunning Multnomah Falls. Although it is heavily trafficked and I have been there several times myself, I never get tired of the sight. We had so much rain this year that the falls seemed extra spectacular.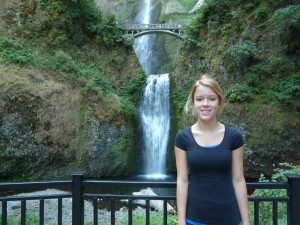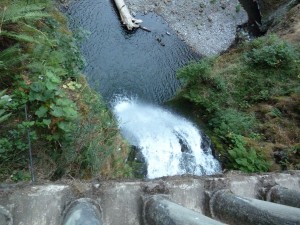 We were dressed for the 90-degree weather that was supposedly on its way, but I (stupidly) forgot about the wind in the Gorge, for which it is famous (seeing as it's the birthplace of windsurfing). So we froze. We took shelter in the Multnomah Lodge, where we snuggled next to the fire and took a break.
After warm drinks, we headed further east and hiked around other waterfalls-Horsetail and Ponytail Falls, with a crossing over the Onenata Gorge. Here are the highlights.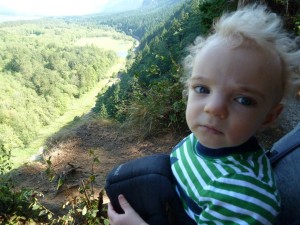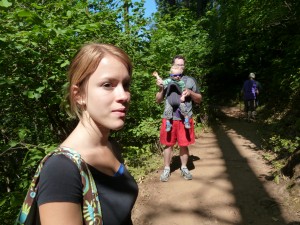 It was definitely time for lunch after the nice 2.7 mile loop, so we headed back into Washington via the Bridge of the Gods and took refuge at the Skamania Lodge, a place that we brought Don and Lori to on their past visit. After this visit I vow to go back sometime and stay for a weekend. The views are outstanding, the setting is pristine, and it definitely is the perfect place to unwind after a day of kayaking or "wandern" (German for "hiking"). This shot captures the scene well.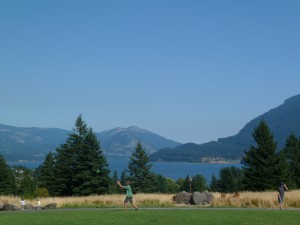 There were also 2 weddings going on there, which added to the festive mood. It seems like a popular wedding spot. We peeked into two reception rooms that were being prepped and were amazed by the design: one room was being transformed into a Fall-colored forest, with real trees and several outstanding touches, like tree-branch seating card holders and moss-covered table settings.
It was a weekend to remember.
And since the strangely-high temps are set to continue all week, it seems like summer is just getting started in earnest here…we'll take it while we can get it! It was 94 today; our tomatoes sure are happy…