Here are the sublime fava beans we got in last week's CSA delivery!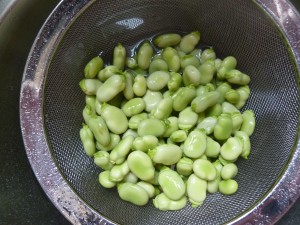 Fresh fava beans are not easy to find, and we don't have any Middle Eastern groceries around. We enjoyed these beans in a Moroccan lamb tagine. The smell alone made me miss my adventures in North Africa. It hit the spot!
We have a few blueberry bushes in the yard that we have basically ignored. They were planted by the previous owners, so we estimated they we 3 years old, at the oldest, and wouldn't produce berries worth eating for a few more seasons. When D and I were checking out the flowers in the yard yesterday, we discovered we have a crop of delicious ripe blueberries! Dash sat in the grass and gobbled up several as I harvested a bowl's worth (the bowl was fuller before I took this photo!).
We may not have summer here yet, but we have berries that apparently love the misty, still-cool mornings. Sorry to the rest of the States–it is barely 60 here and overcast!