Living in the temperate Pacific Northwest, we try to get outside as much as we can, whether it's rainy or not (most of the time it just spritzes anyway). We have been watching Spring unfold with much anticipation. It's a long season here–our Camilia tree bloomed in February–and now we are getting those dramatic, rolling slate-colored clouds that make the grass look electric. In our neighborhood, we troll the streets, sometimes trying for a nap, examining all the new flowers, inhaling the great scent of damp lawn trimmings on the breeze. The azalea hedges are in full bloom, showy and delicate, and the perfume of the lilac trees is irresistible.
It's a sensory delight for both Dashiell and me. He is just learning to smell…I think. I put a lot of things next to his nose, and now he will often lean in a tree to "smell" things on his own.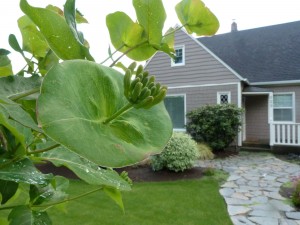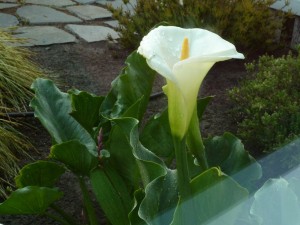 Since he was very young, we've been playing "Stinky!"–we sniff D's feet and declare them to be "stttiiiiinky!" This makes him explode with laughter. Tonight, for the first time, he put his nose next to Jeff's foot and looked over at me, cueing me, waiting to hear the magic word. He did it several times and his face lit up with glee when he'd hear "stiiiiinky." Since it was time for bedtime stories, Charlie (the stuffed chick) was nearby; when we showed D Charlie's "feet," he "smelled" those, too!
Monkey-see, monkey-do has begun!